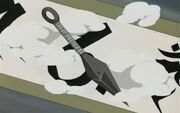 This technique is a standard skill which allows a user to summon an assortment of items that have been stored using fuinjutsu. Scrolls are the most common choice for item storage. When needed, the owner will activate the seals releasing their item or weapon of choice. Scrolls can also be used as ammunition for other weapons or have other seals inside of them, which expands the number of potential tricks a user can use.[1] Arts supplies are the most commonly sealed objects.
Ad blocker interference detected!
Wikia is a free-to-use site that makes money from advertising. We have a modified experience for viewers using ad blockers

Wikia is not accessible if you've made further modifications. Remove the custom ad blocker rule(s) and the page will load as expected.