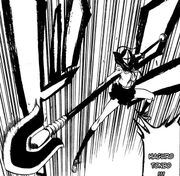 &nbsp

Haguro Tonbo
Iron Drink Dragonfly
this Zanpakutō is considerably longer than most; resembling a nōdachi with a dark blue hilt wrapping and a square tsuba with two rectangular attachments on two ends.
Shikai: Its Shikai command is Smash (潰せ, tsubuse). wielder first slams the hilt of the Zanpakutō into the mouth of its scabbard before twirling it over their head with both of their hands. the Shikai command prompts it to quickly lengthen into an exceptionally long pole arm outfitted with a blade reminiscent of that of a Monk's spade on one end, and a heavy ball on its other end. This allows the bladed end to be used much like an axe, and the weighted end to be used as a smashing implement.
Ad blocker interference detected!
Wikia is a free-to-use site that makes money from advertising. We have a modified experience for viewers using ad blockers

Wikia is not accessible if you've made further modifications. Remove the custom ad blocker rule(s) and the page will load as expected.