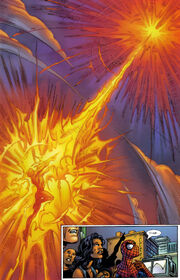 &nbsp
Hypercortisone D, better known by it's street name Kick, is a aerosol that covers users external surface, including skin, hair and eyes with a microscopic layer of transparent fireproofing plates, making them fully immune to fire damage. The cells begin generating plasmajets through clean nuclear fusion, allowing users to emit flame from part or all of their skin, and even to fly. This fusion is powered internally, so if user does not consume enough energy to generate new protective cells regularly, they run the risk of literally burning themselves up. They can also control flame outside of themselves, though this has yet to be explained.
Ad blocker interference detected!
Wikia is a free-to-use site that makes money from advertising. We have a modified experience for viewers using ad blockers

Wikia is not accessible if you've made further modifications. Remove the custom ad blocker rule(s) and the page will load as expected.