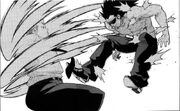 Like the domino effect everything crumbles one after another after you land the first hit knocking down your opponent in a split second, when fully mastered it feels like getting hit by a car. After the first hit it looks like a magician's levitation trick the opponent's body bounces in the middle of air. It's a technique that allows no escape after receiving the first blow. Uses some moves from wind step and other techniques in combination. It feels like being thrown into rapids if you struggle to escape upstream this would increase the drag force just like in water it would result in defeat because of the unusability of strength. This technique makes use of all 4 limbs so it requires very unorthodox training. With the exception of the fingers the legs hold the same potential as the arms. So user must practice things like eating, writing, etc using their non-writing hand and of course their feet. The technique is also known as Nadare
Ad blocker interference detected!
Wikia is a free-to-use site that makes money from advertising. We have a modified experience for viewers using ad blockers

Wikia is not accessible if you've made further modifications. Remove the custom ad blocker rule(s) and the page will load as expected.