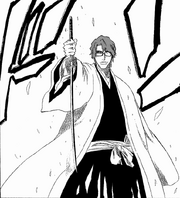 &nbsp

Kyōka Suigetsu
Mirror Flower, Water Moon
In its base form, it resembles a normal katana. The only decoration is the tsuba, which is a hexagon instead of a rectangle. The two sides parallel to the blade are long, whereas the four sides above and below the blade are shortened, making it into almost a diamond or prism-like shape. It has a green handle.
Shikai: The release command is "Shatter" (砕けろ, kudakero) and is used to both activate and deactivate it. The name Kyōka Suigetsu hints at its illusionary properties; the moon reflected in water and a flower in a mirror are things that can be seen but not held. It is a Chinese saying for seeing and desiring something that is a dream that cannot be easily grasped in hand, teaching people about temptations.
Shikai Special Ability: Kyōka Suigetsu's Shikai ability is Kanzen Saimin (完全催眠, Complete Hypnosis). It controls the five senses to the point that it can make the target misinterpret another person's form, shape, mass, feel and smell to be that of the enemy. The initiation condition for the hypnosis is to show the enemy the release of Kyōka Suigetsu. After seeing it just once, that person will completely succumb to the hypnosis. After that, every time it is released, that person will fall under the thrall of the hypnosis. The hypnosis is long-lasting. Since the spell works when you see the ritual, those who cannot see are consequently immune to the hypnosis. When wielder turns off the hypnosis by force of will, the image shown melts away/shatters. Kyōka Suigetsu's Complete Hypnosis is absolutely flawless; even if the target is aware that they are under the hypnosis, they cannot resist its influence. Kyōka Suigetsu's hypnotic abilities make it a highly useful tool in combat, as wielder can quickly create simple or complex illusions to deceive his opponents. For example, by creating a decoy of himself, or other illusions to distract his opponents, wielder can hide his own movements and attack with impunity. The opponent, meanwhile, will remain focused on the illusion until it's too late to react.
While the illusions Kyōka Suigetsu creates are quite powerful, those with considerable power and skill themselves may be able to note slight differences in the illusions compared to the real thing, even if they are not able to determine what, precisely, is different. Kyōka Suigetsu's energy gives it away to those keen enough to sense its actual presence past the illusions created by its complete hypnosis. The sole way to escape Kyōka Suigetsu's ability is by touching the blade itself before complete hypnosis is activated.
Ad blocker interference detected!
Wikia is a free-to-use site that makes money from advertising. We have a modified experience for viewers using ad blockers

Wikia is not accessible if you've made further modifications. Remove the custom ad blocker rule(s) and the page will load as expected.