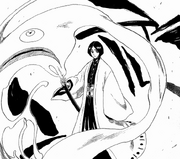 &nbsp
Purify the Flesh
In base form, Minazuki is slightly longer than an ordinary katana, and resembles a nodachi The tsuba has an oval shape and the handle is red.
Shikai: Its release command is heal. When released in Shikai form, Minazuki will start to morph, turning into a green like gas substance before taking a solid shape of a giant, green, one eyed Manta Ray like creature with the capability to fly. Minazuki can act as transportation and will change back into the green gas substance before returning to its sword form when its duty has been fulfilled.
Shikai Special Ability: It is large enough to transport many people on its back (at least a dozen, based on its size when compared to those riding it). It acts on verbal orders and when landing it has the ability to create a pair of bird like legs. Minazuki's main aspect is its ability to heal. When the wounded are placed within Minazuki's mouth, they are swallowed and stored inside it's stomach. Minazuki's stomach acids are strong healing medicines and ointments which gradually soak over the wounded, curing their injuries. It is able to carry at least five people within it's stomach. When wielder gives the word, Minazuki will regurgitate the people back out of its mouth.
Ad blocker interference detected!
Wikia is a free-to-use site that makes money from advertising. We have a modified experience for viewers using ad blockers

Wikia is not accessible if you've made further modifications. Remove the custom ad blocker rule(s) and the page will load as expected.