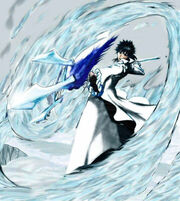 &nbsp

Nejibana
An average katana with a rectangular cross guard with smooth rounded edges and a dark blue hilt.
Shikai: Its Shikai command is "Rankle the Seas and the Skies" (水天逆巻け, suiten sakamake). Wielder holds Nejibana upside down and begins to twirl it in their hands as it glows, transforming into a cross between a trident and a ji (a Chinese halberd) with a crystalline appearance. Like the ji, it bears a horsehair tassel, although it is blue instead of the traditional red; similarly the two side blades are straight with concave edges as opposed to the usual crescent blade. The end of Nejibana turns
Shikai Special Ability: Nejibana's ability lies in the manipulation of water. Being hit with it is reminiscent of being hit by crashing waves, as water constantly flows from it and the surrounding area. Nejibana's tip is constantly flowing with water with every arc and slash, and each crushing blow creates large waves.
Ad blocker interference detected!
Wikia is a free-to-use site that makes money from advertising. We have a modified experience for viewers using ad blockers

Wikia is not accessible if you've made further modifications. Remove the custom ad blocker rule(s) and the page will load as expected.