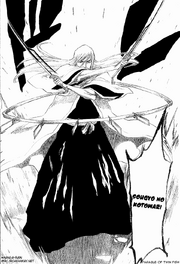 &nbsp
Truth of Pisces
Resembles an average katana with a rectangular bronze cross guard and dark red handle.
Shikai
: Its Shikai command is "All Waves, Rise now and Become my Shield, Lightning, Strike now and Become my Blade" (波悉く我が盾となれ雷悉く我が刃となれ,
nami kotogotoku waga tate to nare, ikazuchi kotogotoku waga yaiba to nare
). Once wielder completes the incantation, he grasps the single blade with two hands. The blade then transforms slowly and begins to form two blades, as the blades peel apart, a large red rope-like chain at the base of the hilt lengthens and silver metal square charms attached to the chain begin to fall until all five present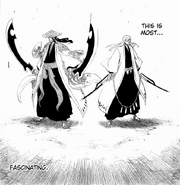 themselves. The blade is now somewhat thinner than the normal Zanpakutō and the cross guard now extends up the blade for about 15 cm. Up 25 cm from where the cross guard is, there is a 45 degree cut on the inside of the blade where a second blade is jutting back down and parallel to the main blade. With the edge of the blade facing inward instead of outward, the blade is very artistic and rather difficult to handle, requiring an extremely skilled wielder to master such a uniquely designed weapon.

Shikai Special Ability: Sōgyo no Kotowari is able to absorb an opponent's energy attacks through the left sword and directs the attack through the connecting rope where the five charms on the rope strengthens and accelerates the attack faster than it was originally fired and reverses its original course firing the same attack from the right sword, making it much more difficult for the opponent to dodge. The entire process happens so fast that the attack looks as if it originally came from Sōgyo no Kotowari.
Ad blocker interference detected!
Wikia is a free-to-use site that makes money from advertising. We have a modified experience for viewers using ad blockers

Wikia is not accessible if you've made further modifications. Remove the custom ad blocker rule(s) and the page will load as expected.