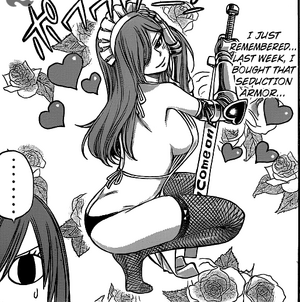 &nbsp

This armor is composed of a long light apron, tied behind wearer's neck and back, worn over her bare chest, and thus revealing much of her breasts' sides, paired with dark panties, exposing much of her buttocks, and long stockings, reaching up to the middle parts of her thighs. There are no shoes, and the head is adorned by a maid hat. The only visible armored parts are the gauntlets, which extend up to the middle parts of the biceps, where ribbons are tied around the arms, and sport heart-shaped elbow guards.
Ad blocker interference detected!
Wikia is a free-to-use site that makes money from advertising. We have a modified experience for viewers using ad blockers

Wikia is not accessible if you've made further modifications. Remove the custom ad blocker rule(s) and the page will load as expected.